28th Birthday Bash & Fundraiser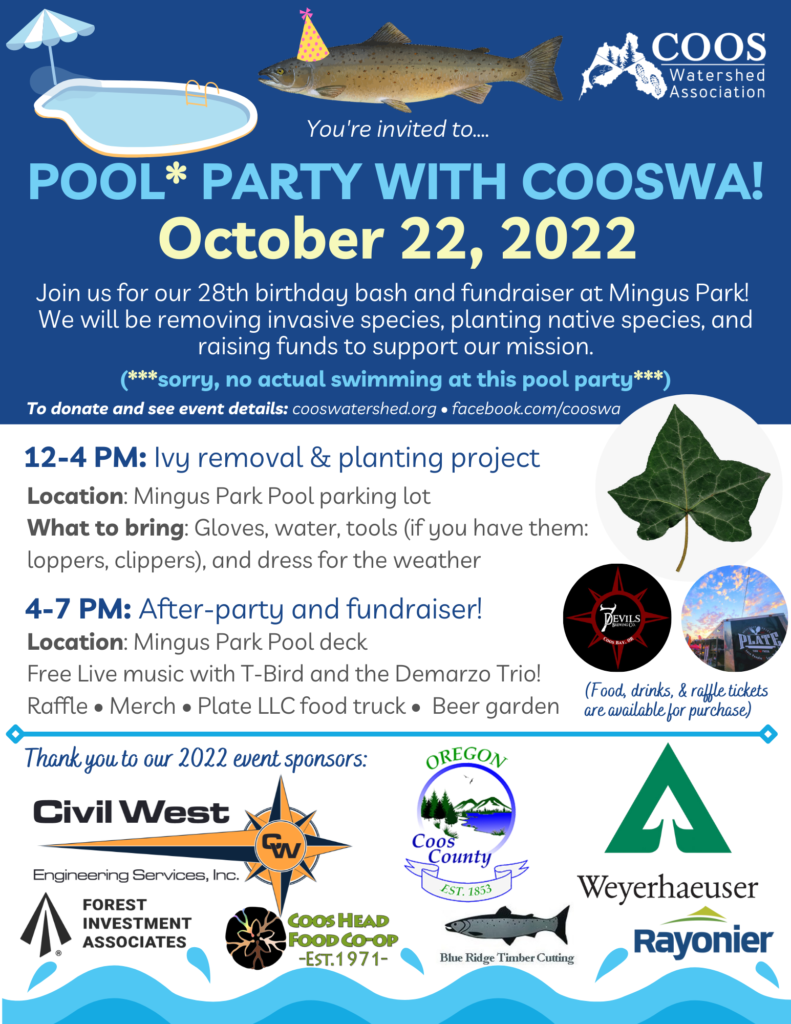 To celebrate our birthday this year, we are hosting an invasive species removal and native planting event at Mingus Park followed by an after-party on the pool deck (no swimming, sorry). This event is a great chance to gather outdoors with Coos Watershed Association staff, board, and community supporters while pulling ivy (12-4PM) and enjoying live music and local food and drinks (4-7 PM). At the evening event, we will also be selling CoosWA merch (new hoodies!) and raffle tickets, AND... unveiling the grand prize "art bike" from the Gorse Pedal & Pull event on October 15!!
Welcome to the 2022 Gorse Pedal & Pull, a fun new event brought to you by the Coos Watershed Association, Gorse Action Group, and other local partners! The Pedal & Pull is a silly mountain bike competition with a serious goal: removing an incredibly invasive species from the popular Whiskey Run bike trail system. The winners are not measured in time but in CGTDP (Cumulative Gorse Trunk Diameter Pulled). We will have prizes for winning teams donated by local bike shops, including a grand prize ART BIKE from Front Street Community Bike Works, to be presented at the CoosWA Birthday Bash on October 22. Register by Oct. 11! This event is FREE.
We recently wrapped up the four-year process of developing the Coos Basin Strategic Action Plan for Coho Salmon Recovery (SAP) with the Wild Salmon Center, and the final draft is now available! This project prioritized the areas and restoration actions most needed to improve coho salmon productivity within the Coos Basin over the next 25 years.
Volunteer Opportunity: Native Plant Nursery Days
What you'll be doing: Projects will include building raised beds for propagation of dune plants, heeling in trees, and other TBD nursery maintenance projects. The property is in the middle of a wetland preserve, so you will also have the opportunity to watch birds and other wildlife.
When: 4th Thursdays, from 8am-noon (May 26, June 23, July 28, August 25, September 22, October 27).
Where: Off of Catching Slough; exact location and directions will be provided upon sign-up.
Sign up
(required): Email Ed Cope at
ecope@cooswatershed.org
or call 541-888-5922 Ext. 305.
RSVP by 5pm on Tuesday of the event week
. Feel free to email or call us with questions.