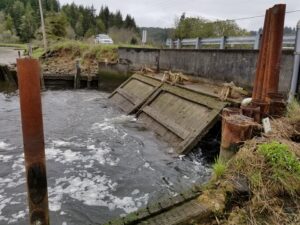 **DEADLINE EXTENDED TO 12-14-23 AT 4 PM**
Haynes Drainage District/Palouse Slough Primary Tide Gate Upgrade Project
For contractors interested in submitting a proposal for the Haynes Drainage District/Palouse Slough Primary Tide Gate Upgrade project, click on the link below to access the full RFP. Work will involve construction of a new sheetpile headwall with four tide gate doors (owner to supply tide gates by Nehalem Marine), removal of the existing tide gate and headwall structure, and restoration actions.
Proposals due December 14, 2023 by 4pm.
Contact: Coos Watershed Association, Allison Tarbox (atarbox@cooswatershed.org)
The Association is seeking a qualified professional to join our dynamic team and fill the multi-faceted position of Monitoring Program Manager. This position is responsible for innovating, managing, and sustaining the Association's monitoring program. It is a highly collaborative position that will also play an instrumental role in facilitating the science and monitoring component of the newly formed Coos Basin Coho Partnership. This is a full-time, hourly position with benefits that includes both field and office work.
Deadline to apply: October 26 by 2pm
Coho Life Cycle Monitoring Internship
Apply today for a Life Cycle Monitoring internship!
We are seeking interns to assist with our salmon surveys this winter and spring! This time of year, interns will be monitoring rotary screw traps for juvenile fish that we track and follow throughout the watershed. Must have a flexible schedule; two free days/week is ideal. Must have transportation to field sites 20 minutes outside of town.
Why complete an internship with CoosWA?

The Coos Watershed Association is a dynamic watershed council working to improve habitat in the Coos basin for coho salmon. A crucial part in working to recover this species is the Life Cycle Monitoring (LCM) program that collects data on the coho population in the Coos watershed. The long-time LCM program has largely been successful through the sustained support of interns. In addition to being a vital component of the LCM program, internships offer applicable work experience and references for beginning a career in the natural resource field.
Choose a path
We offer two pathways here for our interns. Our Academic Credit Opportunity offers college students an opportunity to turn their work experience into academic credit for their hours worked on the LCM project. Our Work Experience Opportunity is for any growing professional looking to gain experience in this field of study. Read more about each pathway below.
Questions? Email fishresearch@cooswatershed.org.